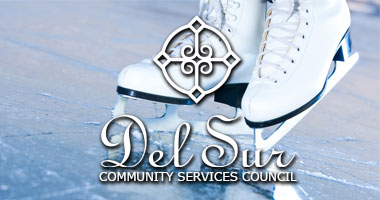 December 1, 2016 - December 10, 2016
12:00 pm - 9:00 pm
What:
Del Sur… Guess WHAT?!?!?  We are putting an ice skating rink in the lower lot of the Ranch House!!!!  Wahoo!!!  We will open daily from 12pm-9pm, December 1st-10th.  This is for Del Sur Residents ONLY!  You MUST show your Del Sur ID in order to skate.  We will have skates available for everyone.  This activity is free and is set on a time limit.  During busy hours, each skater will get 20 minutes to strut their stuff on the ice.  After your turn, you can wait in line again for another go at it.  We are so excited to be able to offer this activity, Happy Holidays Del Sur!!
Food:
Sweet Treats truck will be joining us in the evenings.  Food will be available for purchase.
Del Sur ID:
If you do not yet have a Del Sur ID card, please contact the HOA at (858)759-1921.
RSVP:
No need to RSVP to this event.  We will be open daily from 12pm-9pm.
Guests:
Guests are not permitted at this event.
Where/When:
Date/Time
Date(s) - December 1, 2016 - December 10, 2016
12:00 pm - 9:00 pm
Location
Del Sur Ranch House
15455 Paseo Del Sur
San Diego, CA 92127
Add this event to your calendar:
iCal Format - iCal